The term "neopronouns" is a relatively recent addition to our cultural lexicon. That's okay, though! We use language to identify, shape, and share our lived experiences. It's constantly adapting to various shifting needs and changes. Language isn't set in stone — and context matters a lot.
But all too often, queer people have been intentionally left out of societal conversations. Exclusion like this isolates, shames, and silences them — especially those of us with genders that don't fit what our dominant culture recognizes.
Pronouns and Identity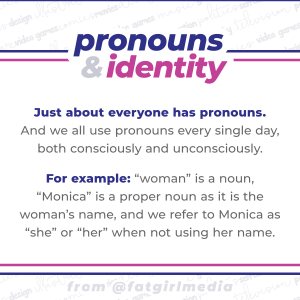 Remember parts of speech? Nouns, for instance, are words used for people, places, things, or ideas. A proper noun is the name of a person, place, thing, or idea. And pronouns are words used to refer to nouns that have already been identified or implied.
For example: "woman" is a noun, "Monica" is a proper noun as it is the woman's name, and one would refer to Monica as "she" or "her" when not using her name.
Just about everyone has pronouns. And we all use pronouns every day, consciously and unconsciously.
Pronouns and Queer Identity
Many folks who reject gender norms still use widely-recognized pronouns such as "she/her," "he/him," and "they/them." But there are quite a number of people creating or using different pronouns in response to being excluded. These are "neopronouns," and they're an important way to honor and respect those who use them.
Affirming Humanity
Using someone's name and pronouns is a small but powerful way to respect them as human beings. Our dominant culture uses language as one of many tools to oppress and dehumanize people it views as "undesirable." That's why intentionally using a person's wrong name and pronouns is a dehumanizing act of violence. Even constantly forgetting to use the correct name and pronouns has the same effect…and yes, even if you're not trying to hurt them.
Practical Neopronouns
Neopronouns function just like more widely-accepted pronouns!
For example: Terry uses "xe/xem/xyr" pronouns. Xe volunteers at the local animal shelter and often has xyr therapy dog with xem.
This example is a good template to use when learning to incorporate someone's pronouns into your working memory. Using neopronouns takes practice!
If you're unsure how to pronounce the words, either ask the person in question or do a quick internet search to see if a pronunciation guide already exists. Then practice writing and talking about this person using the correct pronouns.
Learn More
You can learn more about different genders, pronouns, and neopronouns with Chiqay Bertulfo's research paper Beyond He and She: A Study on the Non-Binary and Gender Neutral English Neopronouns (PDF).